Home Movie Facts Fans+Reviews Where to Watch News+Blog Store

Millions of children will never see the Milky Way. You can help. Become a Dark Ranger! You can save money and protect wildlife too! Learn about the benefits of wielding light wisely from the original Dark Ranger, Kevin Poe, Sept. 21, 7 PM at the Crossroads Center in Sturgeon Bay, WI, in an event sponsored by the Door Peninsula Astronomical Society and The Door County Environmental Council.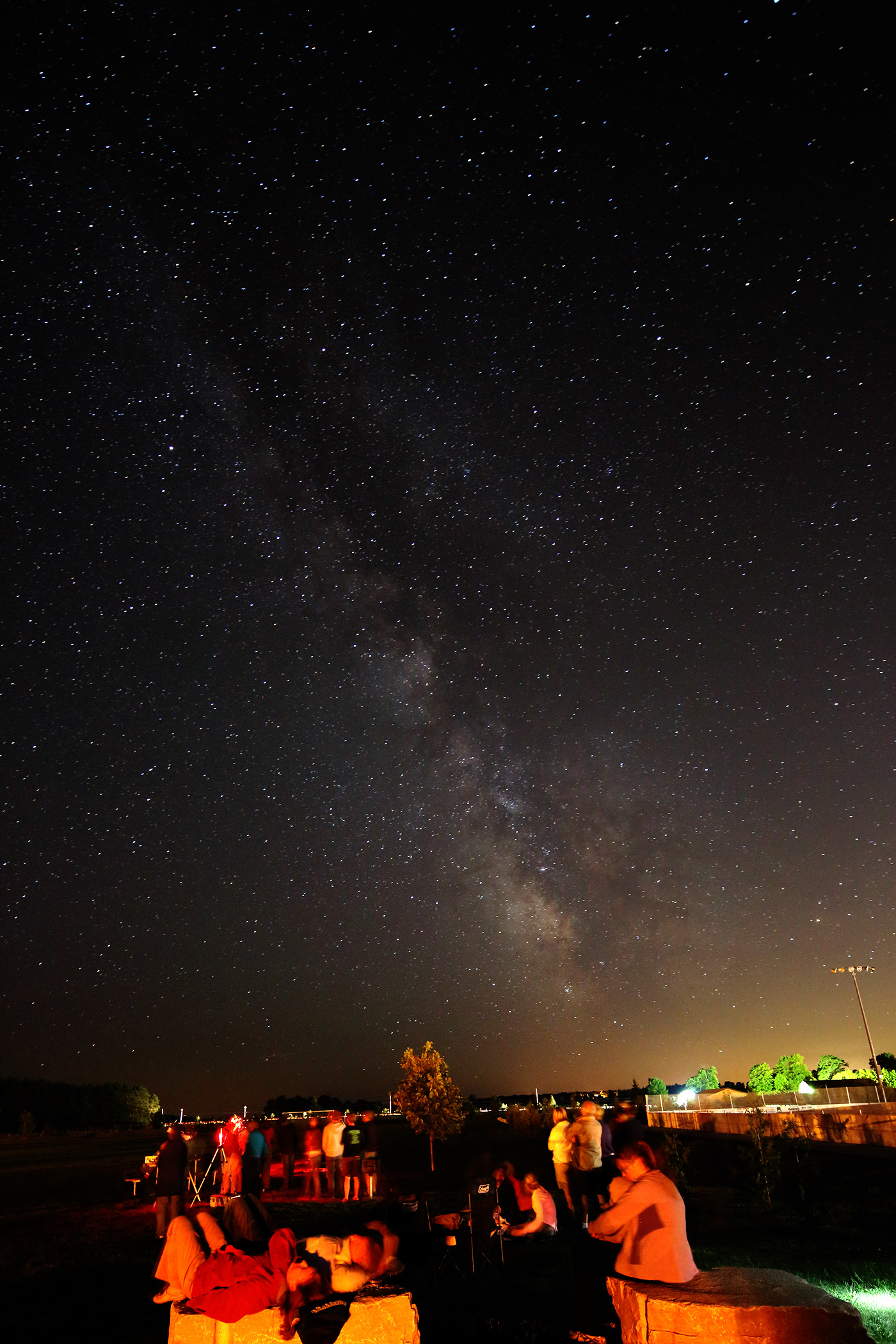 Stargazers bask under the Milky Way at the Erskine's annual Sister Bay Star Party
photo credit Tim Erskine

Americans waste 3 billion per year throwing light up into the sky, where it does not help us to see anything on the ground. When you drive through a town that has street lights shining upwards, you have to wonder about the town board members' wisdom and thriftiness. Unless you want to see seagulls at night, it's wasted energy. And wasted money! It also reflects off particles, preventing you from seeing the stars that are there.

Artificial light at night also has drastically negative effects on the lives of birds, insects, mammals, amphibians, and plants.
Emissary movie producers Tim and Holly Erskine are proud members of the International Dark Sky Association. So imagine our delight that the chosen spot for Koyper's spaceship landing, Newport State Park, might win the coveted status of becoming an official International Dark Sky Park! These places are rare around the world, and it would be the only designated Dark Sky Park in Wisconsin.

Will Newport State Park win silver or even gold? The Park's officers, after a couple years worth of documentation and help from DPAS members, have been working hard to get this designation. Parks are classified as silver or gold depending on the criteria they meet. We know Newport is a real gem and we want to keep it that way!
In a separate event, we will play our movie at Newport State Park Sept 30, at 6:30, at the Nature Center, followed by a star party at Lot 3. Clear skies everyone!