Home Movie Facts Fans+Reviews Where to Watch News+Blog Store

Today, November 10th, 2015 is the 40th anniversary of the sinking of the Edmund Fitzgerald. Twenty nine men lost their lives in Lake Superior. It's a powerful story to many people including me, and I remember when Gordon Lightfoot's haunting song came out in 1976. Our movie opens with the sinking of the ship but with a new loss included – a mysterious spaceship and its pilot.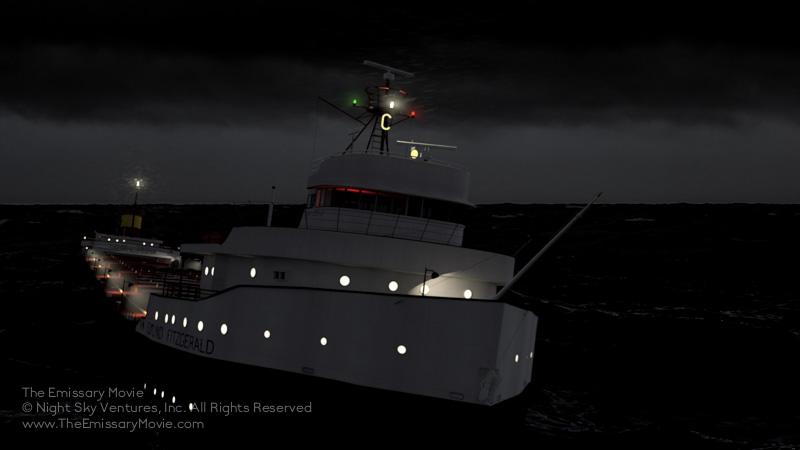 Holly and I recorded the song below after the passing of her aunt, and we would like to offer the words here with our deepest condolences to the families of the crew of the Edmund Fitzgerald. May they all rest in peace. I will make the recording accessible soon for download so you can hear Holly's angelic voice and we both wish to offer comfort.
Aside from the obvious drama of the event, I later wondered why I thought it was a good way to open the movie. In conversations with Holly, I realized how it made it possible to show the fragility of life and the risks inherent in exploration regardless of technology by connecting our spaceman back to the tragedy as the action of the movie unfolds. No matter the strength of the mechanical bubbles we enclose ourselves within, we are tiny specks compared to the power of nature. "Seafarers and spacefarers alike face tragedy wherever they go–– this will always be true." So right from the beginning of our movie, we have this reminder. Life is precious, life is fragile.
It was a fearsome storm and it was incredibly challenging to animate the water effects - two years of labor. I did a lot of research on the sinking and endeavored to be as accurate as possible. The freighter Arthur Anderson, fifteen miles behind, reported a wave hitting them that showed "green water" through the windows of the pilot house, thirty-five feet above the water line, which means the pilot house was below the foamy wave top. In The Emissary, a wave of this size hits the Edmund Fitzgerald.
––Tim Erskine
In Every Lovely Thing
words and music by Tim Erskine,
from an original poem attributed to Mary E. Frye

Do not stand at my grave and weep
I am not there – I do not sleep
I am a thousand winds that blow
I am diamond glints on snow
I am sunlight on the grain
I am gentle April rain
Do not stand at my grave and cry
I am not there – I did not die

Do not stand at my grave and weep
I am not there – I do not sleep
I'm in the wild flowers' bloom
I am in a quiet room
I am graceful birds in flight
I am star shine at night
Do not stand at my grave and cry
I am not there – I did not die

I did not die...

All the World breathes as one with life
In the clouds of space and countless stars of every hue
And I am still alive here everywhere
In every lovely thing surrounding you
In every lovely thing inside of you

In every lovely thing

Holly Phaneuf Erskine - Vocals
T.E. – Acoustic Guitar, Piano and Synthesizer
© Timothy J. Erskine. All Rights Reserved.