Home Movie Facts Fans+Reviews Where to Watch News+Blog Store

Director Tim Erskine's Bio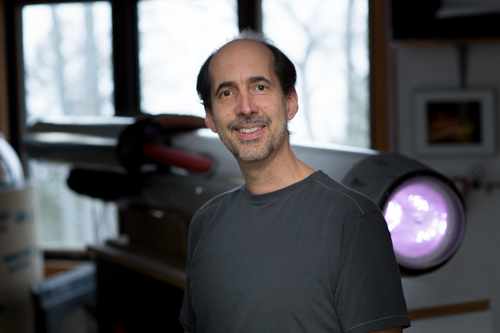 Director Tim Erskine was born in South Bend, Indiana on December 26, 1959. He graduated from the University of Arizona in 1983 with a degree in Mechanical Engineering. He is an inventor on over sixty U.S. patents, an artist, musician and entrepreneur. Tim has an adult son and lives in Door County, Wisconsin with his wife and co-producer Holly Erskine.
Early Life
Tim Erskine is the third of six children born to an artist mother and nuclear physicist father. Tim learned to act while reenacting Spin and Marty episodes with his older sister, Terrie, on a stick horse made by their grandfather.
Tim's path into science and engineering got its start at age seven with designing and building his own model rockets under the supervision of his older brother Dave, who is now an astronomer. Art, however, was Tim's favorite subject in school. When Tim was ten, his father bought the family a cassette recorder. Tim immediately adopted it for creating elaborate radio shows featuring his schoolmates in themes of the Vietnam War and World War II spies.
His father also bought a small telescope, and looking at the rings of Saturn through the hazy skies of Chicogoland fired up Tim's love of astronomy. At age seventeen, he first thought that he might be an inventor after discovering he had reinvented Yuri N. Artsutanov's space elevator. While not an original invention, he reasoned that if he could think of that on his own, someday he might invent something completely new.
Enamored with the cosmos and science-fiction, Tim entered the University of Arizona to study aerospace engineering, planning to become an astronaut. He soon realized his artistic nature made a poor fit with military pilot training, and gave up that dream, instead focusing on learning to play the guitar and piano. Tim had started writing science fiction stories while in high school, and added writing classes to his engineering curriculum.
One of the Erskine family's gathering rituals was comedic movie production. Early works were on 8mm film and silent, but sound was added later with the advent of home video. Here Tim learned that he was born to be a director, discovering that he most enjoyed telling people what to do. Each family member also saw themselves as the director in these productions, which is how he learned to deal with chaos on the movie set.
Professional Career
Tim's first job out of college took him to Utah, where he engineered parts for rocket nozzles. Heat shields Tim designed during that time fly today on the third-stage of the Minotaur orbital rocket. He quickly switched to engineering medical devices and is an inventor on over sixty US patents. He designed the top-selling IV catheter used in the U.S.
Tim built several home recording studios, and finally released the rock music CD First Light in 2002 under his own Night Sky Records label (later to become Night Sky Ventures, Inc.) after a ten year effort that included recording live orchestra. Tim wrote the fanfare for orchestra played under the Night Sky Ventures movie banner.
In his spare time, he started Code Zebra, Inc. and developed technical drawing software, elements of which are incorporated in products by Corel and Siemens. In 2005 he and a partner formed Erskine Medical, which licenses Tim's needle-safety inventions to medical device manufacturing companies.
Realizing that life is nothing without comedy, he gradually returned to his story-telling roots by producing industrial videos. According to Tim, most of these were inappropriately comedic for his clients though he meant well.
Tim finally moved from Utah to Door County, Wisconsin, in 2007, where he has deep family roots--literally. The historic Erskine Root Cellar still stands there. In this scenic resort community, he immersed himself for several years in fine art painting and commercial nature photography with the intent of honing his eye for cinematography. After producing the short movie The Case of the Tainted Cheese Curds, he simultaneously began production on his first feature-length project, The Emissary, and construction on a post-production sound studio within which he finished the movie.
Tim has a son, Jeremy, who is a geologist studying Martian rocks. Tim lives with his wife, co-producer, author and chemistry professor Holly Erskine, and an assortment of locally harvested cats. Holly, herself an amateur astronomer, discovered an asteroid and named it "Tim Erskine" as a wedding present. Tim speculates that it will threaten and possibly destroy the Earth in the year 2816 A.D. without human intervention.
Director's Statement